B2Gold Environmental Assessment for Exploration activities on EPL 6949
Proponent: B2Gold Namibia
Status: Approval Obtained
Sector: Mining & Minerals
Country: Namibia
Environmental Assessment for exploration activities on EPL 6949  for base and rare metals, industrial minerals and precious metals.
As part of the proposed low impact, non-intrusive exploration project, the following activities are envisaged, which shall be further defined as the exploration program is refined:
Potential creation of access tracks, where existing tracks cannot be utilised;
Limited vegetation clearing for the creation of tracks;
Creation of exploration boreholes;
Exploration methods may include aerial or remote sensing, electromagnetic surveys, drilling, mineral sampling; and
Storage of exploration mineral samples.
The potential environmental and social effects are anticipated to be of minor significance, and those that may occur shall be contained on the EPL sites, these potential impacts may include the following:
Minor disruption to the residents of the farms within the EPLs, including some increase in noise levels and dust arising from drilling and vehicle use;
Some potential vegetation loss due to possible track creation;
Potential to unearth, damage or destroy undiscovered heritage remains;
The potential use of resources, including surface and groundwater; and
Minor risk of loss of contaminant of hydrocarbon, chemical or drill fluids from exploration activities potentially leading to localised ground contamination.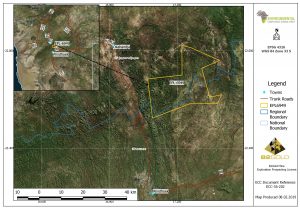 ECC's Role in the project
Environmental Compliance Consultancy (ECC) is the appointed Environmental Practitioner for the project. ECC will conduct an environmental assessment in order to complete an Environmental Impact Assessment and Environmental Management Plan (EMP) in accordance with the Environmental Management Act, 2007.